Best Car Code Reader | Advance Auto Code Reader
Best Car Code Reader
There are a multitude of reasons to get a car code scanner. For example imagine your car smogged, you check and the engine light is on. If you cant't quickly identify the cause you are probably going to end up at a auto shop and you are going to pay at least $100. Worse still they might tell you something as simple as your gas cap was was open or you need a new gas cap, or maybe you have a vacuum leak and that could be just as simple as replacing a worn rubber seal, or you need to clean your mass air flow sensor.
Having your own car code reader is a whole lot cheaper then going to the dealer to find out there is not much you can't put right yourself. Now. On the other hand, it could be something real difficult like an oxygen sensor, or something wrong deeper into the engine. But this at least you give yourself a very good idea of where to start looking by owning say an advance auto code reader. That is just one option but in this article we are going to look into what is the best car code reader that you can get for your money.
There are lots of inexpensive diagnostic tools on the market such as a Wifi Endoscope Inspection Camera that really should be in your tool box and a car code reader is certainly one of them. Before we look to determine which is the best car code reader it is probably a good idea to go over the basic operation of the device.
How to Use a Car Code Reader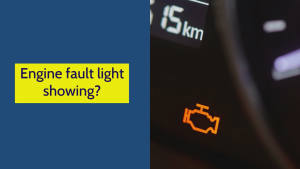 They are pretty simple to use. The first thing though you need to do is check if your check engine light is working. To do this you need to turn the ignition key on to the run position. There is no need to actually start the vehicle but turning it to the run position will illuminate the whole gauge cluster, showing all the functioning lights. If your engine light does not illuminate, it is either burnt out or someone has removed it
This is something to lookout for when buying a used vehicle. A simple engine light check, also known as a CEL for short, is simple to do. If the engine light doesn't show in the cluster is likely that someone has removed the light to hide possible engine faults they are are aware of, but are not visible to the naked eye. Obviously a very dishonest/fraudulent practice when done.
When checking your own car a fault is present the engine light usually has two modes. One will be solid or stay on all the time and the other is blinking. When the light is solid, there is obviously a problem, but it's not an immediate issue. That doesn't mean it shouldn't be fixed either, as the fault can cause increased damage depending on what it is. For a blinking CEO, this means that there is an immediate issue where the vehicle should not be driven and the vehicle must be fixed immediately.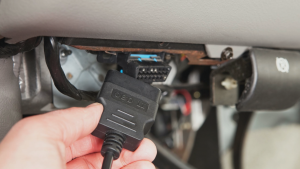 To start using the car code reader we first will need to locate the OBD port to plug it in. This can be in various different places depending on the make and model of the vehicle but a check of the vehicle manual will show you where it is. If your user manual is missing or not to hand a quick search on Google should also give you the location of the OBD2 port . There are two common types of port ODB1 and OBD2 (which means at the second generation port) . Nowadays most have OBD2 ports so it is likely to be an OBD2 port that you are looking for but much older cars may have OBD1 ports.
OBD2 This is a standardized system, much different than compared to OBD 1. This system has a generalized plug area, usually within three feet or 90 centimetres of the steering wheel, has a generic plug and they share the same fault code readings . This system became a standard in the automotive business in around the mid 1990's, but you may come across vehicles a year or two before with this system, depending on the manufacturer.
Once you have found your port, plug in the best car code reader you have. You will see that the plug can only connect in one way, preventing potential damage to the socket when inserting the plug. Dependent on the vehicle, the ignition can either left off, put in the accessories position, in the run position, or the vehicle might need to be running. The scanner will still light up, but it won't necessarily at this point read the codes which will be prompted with a connection error.
To start with have the ignition in the off position first, then slowly work your way up to each position of the ignition switch until the codes are red.
Read the vehicle for this scanner then you can press the Arrow's on the keypad to select the OBD 2 scan. Press enter and the computer will be scanned for any fault codes for this diagnostic tool. The diagnostic tools such as this one were a few $100.
The best car code reader s on the market are able to take live data, publish it on to a chart,the data it has in a built in dictionary for fault codes and then can save data for printing purposes when you are near a printer. Once the scanning is complete, select the down arrow and then read the codes. DTC stands for diagnostic trouble codes. The screen might show either current codes, which is code just scanned. Pending codes, which are fault codes stored in the vehicles computer that haven't occurred enough times or is on the path of being erased by the vehicles computer, or permanent codes, which are high priority errors. Select enter for the specific best car code reader you are using. The screen will prompt you to select which make and model of vehicle you are working with and the definitions produced will be based on this specific vehicle.
When there are multiple codes, such as the next two which relate to the first one, one error may be causing all these codes, something that would relate to all the fault codes would be a vacuum leak for example.And even if there isn't a check engine light, that doesn't mean there isn't an error with the vehicle. The vehicle's computer will store the code for a certain period of time, which is a pending code. If the fault disappears, the code will eventually erase. If the fault persist, this will trigger the light. If you don't fix the persisting fault, that code will keep coming up once those codes are erased.
Which is the Best Car Code Reader to Buy?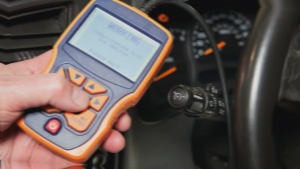 It is always advisable to get the best car code reader that you can afford. Now we have looked the basic operating principle of the reader it is time to determine which is currently the best car code reader on the market, which is the best car code reader in terms of value for money and hopefully when you consider the two you will be able to work out which is the best car code reader for you.
Below we will look at three of the current best in class models at various price points for you to consider.
LAUNCH OBD2 Scanner -CR529 Enhanced Universal Car Code Reader Auto Diagnostic Scan Tool with Full OBDII Functions DTC Lookup Check Engine Light for All OBDII Car After 1996[Upgrade Version]
With coming up to 500 reviews this is an established device that serves at the mid price point device in our selection. With a current review rating of around 4.5 over the nearly 500 reviews it is clearly a well liked battle tested product that does the job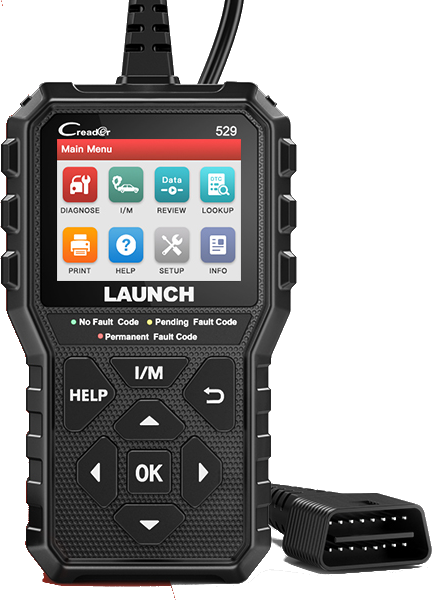 2020 Advanced OE-LEVEL 10 MODES OBD2 SCANNER: This OBD2 scanner many OE-Level features : ➤ Read or Erase codes ➤Fetch I/M Readiness and lock frame data ➤Checks Engine Light ➤A Patented One-Click Smog Check ➤ Display live data in both text and graph format ➤Auto VIN finder➤O2 Sensor ➤EVAP Test (Mode 8)➤Advanced On-board Monitoring (Mode 6).
DATA RECORD & REPORT & PRINT + FREE LIFETIME UPDATE: This code reader can ability to graph, data record, playback, print report via PC (share via email) for further analysis,
DIAGNOSTIC REPORTING: Automatically records the basic diagnosis report, will help users avoid blind maintenance, saving money/time make diagnostic easily. One-Click Lifetime Free Update extend its using life and ensure the data is accurate.
WIDE VEHICLE COVERAGE +7 LANGUAGES SUPPORT: The Car Diagnostic Scanner can be used regardless of the type of your vehicle, as long as it is OBD2 compliant (1996 and newer): KWP2000, ISO9141, J1850 VPW, J1850 PWM and CAN. ???? Multiple language option is also packed: English, French, Spanish, German, Portuguese, Russian, Japanese.
EASY TO USE DESIGN & INTERFACE See VIN/CIN/CVN : The code reader is 'Plugin & Play', no doesn't need a battery. It has a 2.8″colorful LCD display screen, offers visual for readiness verification.
I/M & Help shortcuts make for simple operation.
DTC LOOK-UP: Allows access to detailed definitions of DTCs present in the built-in DTC library.
Red-Yellow-Green LEDs to visually indicate vehicle's status.
VIEW VIN/CIN/CVN Quickly fetches the vehicle VIN for accurate troubleshooting .
DEVICE COMES WITH A 5 YEARS WARRANTY.
This diagnostic car code reader has a classic and robust design and is able to withstand normal, everyday knocks. Irrespective of if you are looking after your own car or an auto mechanic, with the CR529, you can save on time effort and thousands of dollars on car repairs, whilst dramatically increasing your car's performance.
Our second offering is also in the mid range bracket that is to say less than $50 price rage. Again this particular device is very popular with over three thousand three hundred reviews it has certainly seen some action in the field. But with a positive rating of around 4.5 again it is clearly a well liked and respected model
ANCEL AD410 Enhanced OBD II Vehicle Code Reader Automotive OBD2 Scanner Auto Check Engine Light Scan Tool
As ODB scanners go it brightly designed unit with straightforward controls. This ANCEL AD410 is not just as striking as it robust but packs a punch, yet remains very simple to use with a clear well defined screen and is certainly a contender for the best car code reader at an afforable price.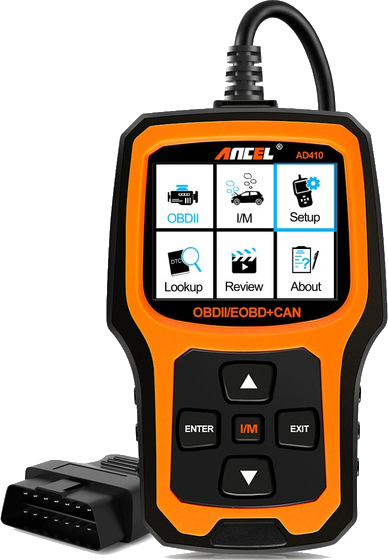 HAS EXTENSIVE COMPATIBILITY – Works on most vehicles sold in the USA with model year of 1996 or newer; Supports all the OBD2 protocols: KWP2000, ISO9141, J1850 VPW, J1850 PWM, and CAN (Controller Area Network); Display can be in English, German, French, Spanish, Portuguese, Dutch, Russian, and Finnish; The unit doesn't require batteries as the car code reader receives power directly from the OBD2 Data Link Connector port in the vehicle.
COMPREHENSIVE FUNCTIONALITY – Reads quickly and erases stored emission-related codes, pending codes, and shows code definitions. Turns off the MIL (check engine light), helps in resetting the monitor before taking it to Smog, and tells you what is going on before bringing the car in for repair.
ENHANCED OBDII DIAGNOSTICS TRACKING- Supports O2 Sensor and EVAP (Evaporative Control) System Test. AD410 code scanner can be used to initiate a leak test on a vehicle's EVAP system by monitoring the integrity of the fuel tank system. The O2 Sensor Test is designed to monitor and adjust air/fuel mixture, which will help identify and troubleshoot issues related to fuel efficiency and vehicle emission.
QVGA DISPLAY EASY USER INTERFACE- The AD410 code reader is a much improved enhanced upgrade from the more basic diagnostic scan tools available. It has a 2. 4″ TFT true color (262K) LCD display, which gives it easy to read and access test stats. Easy to setup, OBD2 Diagnostics, I/M readiness, and has DTC Look-up. Intuitive to use and to know what to do, even if you are a novice..
A DIAGNOSTIC REPORTS & UPDATE – The car code reader has a "Review & Print" option which can be used to save or print diagnostic reports if required. ANCEL gives you peace of mind providing life-time software updates so that you can fix the latest bugs or add in new parameters. Software updates are available from the ANCEL website just follow on-screen instructions to install.
Our third selection comes in at a slight higher yes still affordable price point. Whilst it is an advanced model it is still incredibly easy to us. It also allows you to test not only the engine but the other three ECU systems such as transmission and brakes.This has the potential to save you a serious amount of money that you might otherwise pay to a dealership. As such it certainly deserves a shot at being the best car code reader.
ANCEL FX2000 Vehicle OBD2 Scanner Automotive Car Code Reader Check Engine ABS SRS Transmission Diagnostic Scan Tool
The ANCEL FX2000 is a much bigger and more professional unit than the previous models that we have looked it. It has enhanced systems diagnosis and includes producing data stream graphs to help you more quickly locate any issue. Despite this it is still user friendly and currently has over one thousand reviews meaning it is a good reliable well thought of model.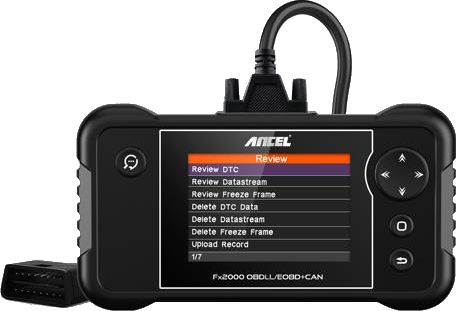 4 SYSTEMS DIAGNOSIS – Not only diagnose the engine system but also performs full etection on vehicle's other 3 main ECU systems, the Transmission, ABS, and Airbag(SRS). It can reads & remove fault codes, can turn off warning lights, and reads live PCM data-stream data on each of these 4 systems.
COMPLETE OBD2 DIAGNOSIS – Read/clear error codes, DTC look-up. It can do smog tests including both the I/M readiness, O2 sensor test, etc. This car code reader will keep your mind from worrying about whether emission data exceeds the current allowable levels values. It can also read freeze frame data and does the EVAP system test. In addition it fetches vehicle info, and more.
ADVANCED DATA-STREAM GRAPH – Reads and displays live data stream in one graph for the 4 systems (Engine, AT, ABS, SRS), allows you to add 4 parameters in the meantime to show the live data, which is intended to help you quickly locate any potential problems that the vehicle may have.
LARGE VEHICLE COVERAGE – The device is compatible with more than 456 vehicle makers for a complete range of manufacturer and model diagnosis. It works on most post 1996 US-based vehicles, 2002 EU-based, 2005 Asian-based vehicles. The newer OBD 2 & CAN domestic or import vehicles. Languages supported English, French, Spanish, German, Russian, Italian, Polish, and Portuguese.
USER-FRIENDLY DESIGN and INTERFACE – The unit has an intuitive easy to use interface. It comes with a massive 4-inch TFT colour back-lit screen, 2 grips at the rear for easy holding It has a strong rugged anti-slip rubber housing and it has lifetime of free software updates via an update software tool which can be downloaded from ANCEL website.
Typical Questions When Looking for The Best Car Code Reader
Is it worth it to spend $100 on a code reader for a used car?
A scan tool generally is really a necessary tool to possess if you do any other thing more than you're very own oil changes, whatever graphs is preferential and freeze body data. It could tell you not only when things 're going incorrect, out of specifications, malfunction indicator lamp DTC codes, as well as your emissions READINESS monitors.
For an used automobile, I would have a reliable mechanic visually inspect it, they will take a scan tool to it and also, check for leaks, suspension, brakes, battery, fluids and general overall situation of the car usually for about $100 and $200 bucks. They will be able to to tell you, in an understandable language, so much more than a scan tool or consumer level software can or you can interpret.
A scan tool I feel is,again a necessary tool if you spend anytime under the hood and are interested in parameters and emission info. There is so much info in the web and in books on this, that I can't even scratch the surface on here.
An added bonus of getting the best car code reader available to you is that you can make $20 here and there if someone has their MIL light up and you study it for them. Sometimes it's as easy as tightening a gasoline cap, but don't pretend to be a certified mechanic. So the best advice is to buy the best car code reader you can afford as it will save you money in the long run.
Why don't car makers put OBD code readers in the car to begin with?
Good question. The simple answer is money. Firstly it woulds be an additional cost. Secondly most dealers make the bulk of their money through servicing and car maintenance and diagnostics are a big part of that. So the idea of making it easier for the customer to do his own maintenance is not helpful the sales and distribution model they employ. So investing in the best car code reader you can buy is always a good idea and will probably save you a lot of money. Best car code reader is a must.
Why do so many people recommend you check the OBD codes before you take a car to the mechanic?
Many garages have thousands tied up in a variety of scanners and also have to ask you for whenever We hook those ideas to your car. Whenever your "check engine light source " occurs often due to something affecting emissions. A good transmission code can affect what comes out of the tailpipe and transmission codes also trigger the "check engine light".
Talking to a mechanic he suggesed that about 75% of codes today are flagged by the EVAP system. The EVAP system is designed to contain gas fumes, store them in the charcoal canister and reintroduce them into the combustion cycle when the engine is ready to take them. If you do not tighten your fuel cap for example you will get something like a P0455, gross leak detected.
Any code in the EVAP system will not cause further damage to the engine or leave you stranded. One code that can be a pain in the ass is the one for a stuck closed vent valve. When the vent valve sticks in the closed position you will have a very hard time putting gas in the car as the air displaced by the fuel has no way to escape other than through the filler neck and so the car will burb and it will take forever to fill the tank.
Get yourself the best car code reader you can afford and check what the light is on for every now and again. OBD 2 codes are standardised for all makes and models .
Some codes however can be a real pain to diagnose and sort out , even for good mechanics.If though the engine light flashes you should turn off the engine and take the car to a mechanic as a flashing light means a severe enough misfire that could mess up the catalytic converter. Cats are very expensive! Thus getting the best best car code reader is crucial to less wallet stress.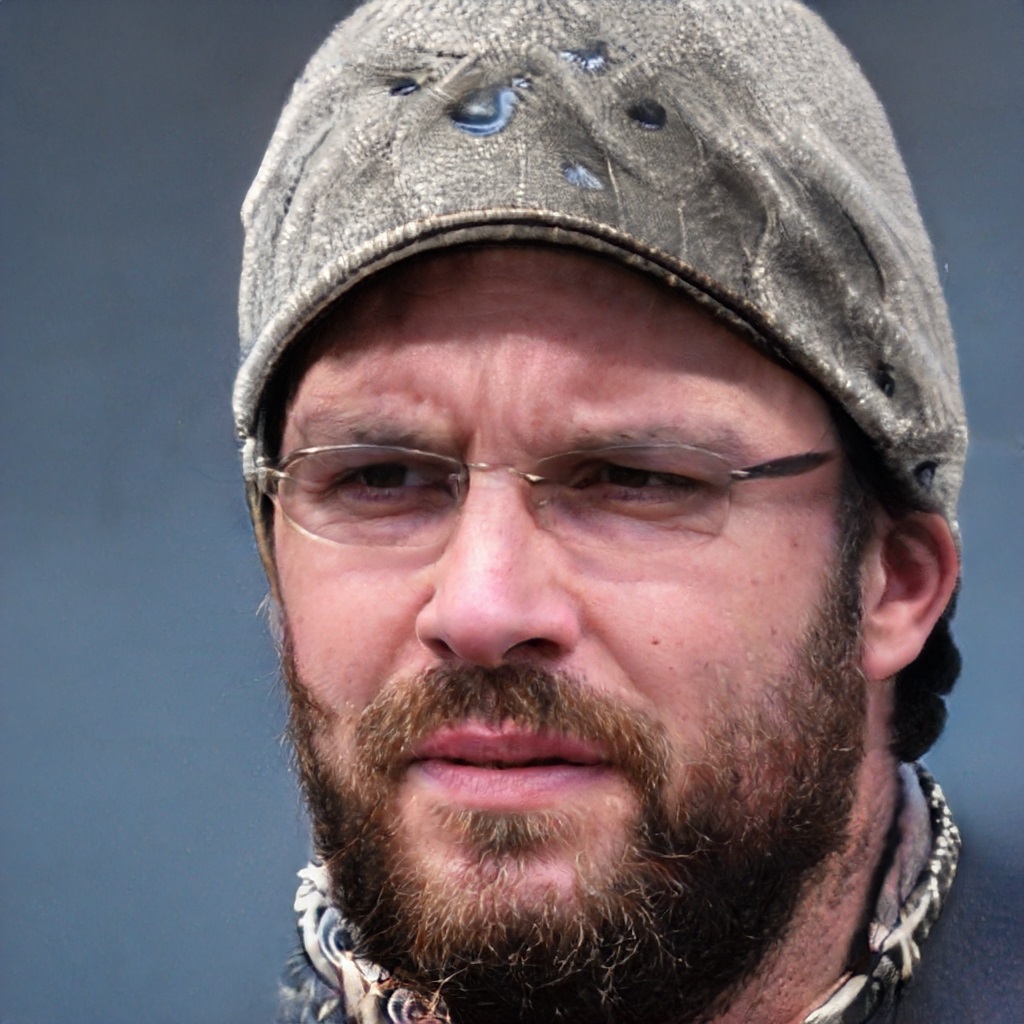 I've been involved in the welding industry for over twenty years. I trained in various engineering shops working on various projects from small fabrication and repairs through to industrial projects.I specialize in welding aluminum and food grade stainless steel and an now run an engineering shop fabricating equipment for the food industry.