Battery-Powered Wood Cutter – 5 Great Options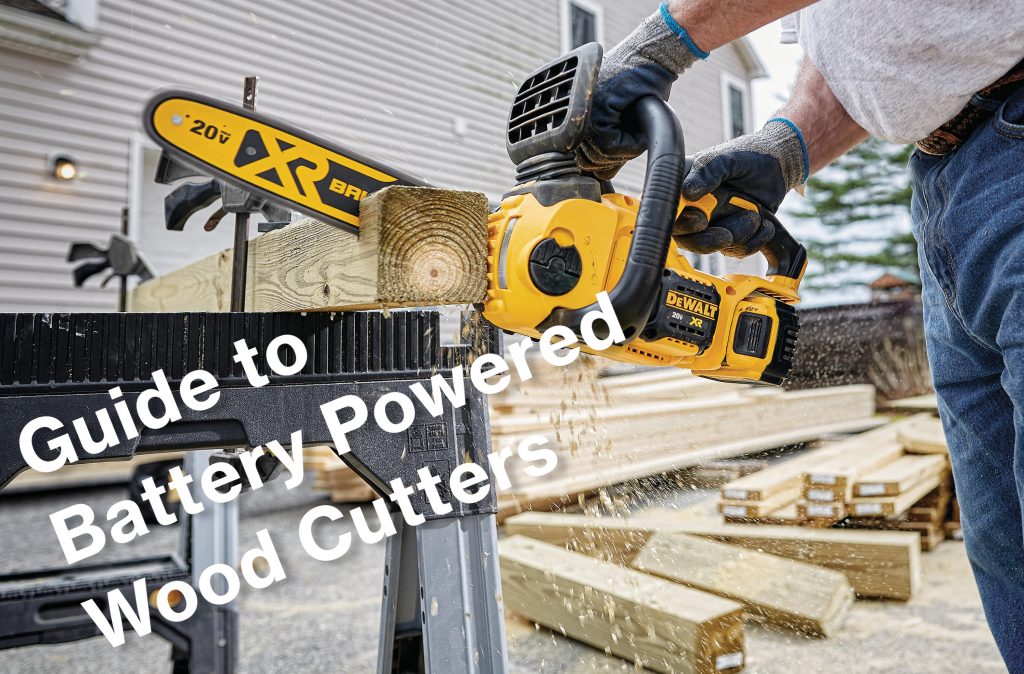 Batter-powered wood cutter. Who wants an electric cable trailing around after them, especially when to are using a chain cutting tool? Alternatively, who wants to have to lug around a gasoline powered wood cutter and then have to fill and maintain the engine? Especially if you are not looking to cut down a forest. The answer to this problem is a battery powered woodcutter, be it a battery powered chainsaw or a saw with a cutting blade. The good news is that advancement in battery technology means that there now a considerable number of incredibly powerful and robust batter- powered wood tools that are more than cable of doing almost any wood cutting job.
Different Types of Battery-Powered Wood Cutter
There are several different types of battery-powered wood cutter that you can buy. Here are the main options that are likely to meet most purposes.
Chainsaw
Probably the most common battery-powered wood cutter that you can buy. Having a battery powered version gives you far better maneuverability for the tool because of the absence of cables and motors. Yet today a batter powered chainsaw is just as powerful.
The operations most chainsaws are designed for can be split into four main tasks, limbing, bucking, trimming and felling.
Felling: This actually cutting down a standing tree.
Limbing: This is the process of removing branches from the tree, often carried out before or after it is felled.
Trimming: When you use a chain saw, this refers to pruning the limbs back or taking off branches on a limb.
Bucking: This is cutting a felled tree the "log" or trunk of the tree into practical/usable pieces, such as fireplace logs.
Jawsaw/Alligator Lopper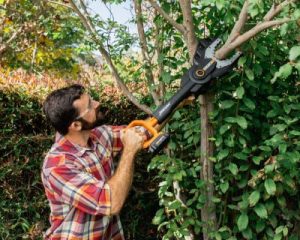 An adaption of the chain saw this battery-powered wood cutter has mouth around which the cutting chain runs. The idea is that you place the tree limb / branch in the mouth of the saw then close the jaws thereby cutting through the branch or limb.
On some of the bigger machines you can cut branches or limbs up to around 4 inches in diameter. If you need to cut bigger pieces then you would need to use a chainsaw.
An additional benefit is that it is much safer than a traditional chainsaw. However, it is still important to always follow safety precautions while using any power tools including a battery-powered wood cutter. This includes the wearing safety eye-wear, good quality gloves, using appropriate shoes & clothing, and always keeping your hair tied back. Always check each tools owner's manual for any more specific safety instructions and details.
Reciprocating Saw
A reciprocating saw is a straight bladed battery-powered wood cutter. The beauty of a reciprocating saw is that it is a very versatile tool. It has has interchangeable blades and, other than wood, can cut a variety of different materials from plastic to metal, based on the blade that is inserted. In many ways it is the ultimate demolition tool.
If you are looking to cut tree branches although the standard blade will work, you will get the best results if you use a pruning blade in the tool. The pruning blade gives beautiful clean cuts and is an excellent tool for the job.
Important Factors to Look For When Choosing a Battery-Powered Wood Cutter
When considering purchasing a batter-powered wood cutter there are several factors that are important to consider before taking the plunge and buying one. What you need to think of first is the kind of jobs that you anticipate the batter-powered wood cutter performing. This consideration is crucial because you want to make sure that you get the right tool for the job, not a tool that is either incapable or way too much power, not the right type of cutter or just too big for its intended use case.
Use Case
The most obvious factor to consider is of courser your use case requirements. If you are only ever likely to prune a small bush getting a powerful battery powered chainsaw is going to be overkill. However on the flip side if you are going to cutting tree branches then getting a small pruning device will also not be a good idea.
Enough Power For the Battery-Powered Wood Cutter To Do The Required Job
One of the most important factors to check is that the tool you are going to buy has enough power to comfortably do the job you require it for. Things to consider are chain speed and battery size. In terms of battery size, look at the Ah setting which relates to the capacity size of the battery. Ah stands for amps per hour so in ideal conditions will give around 2 hours use at full power before requiring a recharge. Lithium-ion battery technology has move forward to where battery cell manufacturers can build same-size cells with greater charge density and thus give better performance.
Whilst there is a lot more to understanding the power that batteries provide in general terms higher values can mean longer runtime and greater/additional power although 4.0Ah doesn't necessarily mean twice the power and runtime of 2.0Ah .
Future Proofed
In addition to being employed for the current job you intend to use it for you should also consider the likelihood of possible future use case scenarios. The worst thing would be to get a tool that wont be able to cope with future projects.
Which Is The Best Battery-Powered Wood Cutter To Buy?
Bearing in mind the factors in your decision of which type of battery-powered wood cutter o buy it is now time to consider which are the best models currently available.
Worx WG322 20V Power Share Cordless 10-inch Chainsaw with Auto-Tension
With 1,300 reviews this is an established option if you are looking for a battery-powered wood cutter chainsaw. Chainsaw is powerful enough for common backyard chainsaw jobs and compact and easy enough to use that you don't need to be a lumberjack to operate it. Chop up fallen branches after the storm, or trim limbs still on the tree before they become a problem.
There are many features that make this a stand out tool out from the crowd. The chainsaw a high-performance tool yet it is incredibly comfortable to use The automatic chain-tension system guards against over-tightening, so you won't damage the chain and an inbuilt auto-lubrication system keeps the chain running smoothly.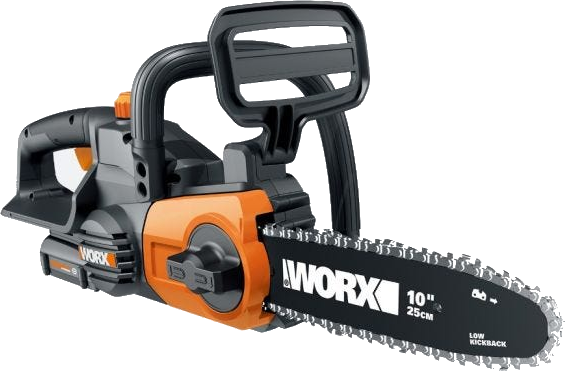 FOR FAST and CLEAN CUTS] The Worx WG322 is a cordless 20V Power Share chain saw. It is on of the fastest and most powerful units in its class. This is no gas tank or electric cord, ensuring easy handling.
AUTO-CHAIN TENSION The patented tool-free auto chain tension system prevents over tightening and keeps optimal chain tension while cutting.
DO IT ALL WITH THE SAME BATTERY Worx Power Share is compatible with all Worx 20v and 40v tools battery systems for outdoor power tool products
AUTOMATIC CHAIN LUBRICATION with oil level indicator. This unique chain lubrication system helps ensure smoother, more efficient cuts. In addition it increases the lifespan of the tool. It has an oil level indicator which tells you exactly what the oil level is.
COMPACT, LIGHTWEIGHT DESIGN Weighing in at just 6.2 pounds, about as much as a 2-Liter bottle of water means you can work longer, with much less strain
SUPER FAST CHAIN SPEED At a speed of 12.5 ft/s. this battery-powered wood cutter will rip through a decent sized log or branch. The speed in combination with the auto-tension system, auto-lubrication system, and its lightweight design, means it is an ultra smooth wood cutting experience
LONG BATTERY LIFE These batteries used are the same batteries we use on our Jawsaw tools and lawnmowers. They are strong and powerful.
DEWALT 20V MAX XR Chainsaw Kit, 5-Ah Battery, 12-Inch
With nearly 3,300 reviews this is a tried and test model in the field of battery-powered wood cutter. This powerful chainsaw adds versatility to your battery system. Gas-free operation eliminates the cold starts, fumes, carburetor issues, and maintenance involved with gas-powered chainsaws. Use it to cut beams, do demolition work, and manage tree limbs.
This battery-powered chainsaw is built to handle tough construction and outdoor work. It comes with an auto oiling system that keeps the saw chain and guide bar constantly lubricated. The oil level indicator 10 shows the level of the oil in the chain saw. If the oil level is less than a quarter full, remove the battery from the chain saw and refill with the correct type of oil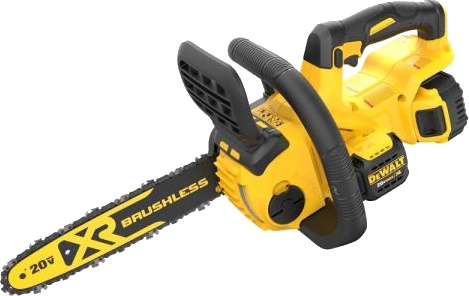 Low kick back 12″ Oregon Bar and chain: for construction and outdoor cutting applications
High-efficiency brushless motor maximizes runtime and motor life
Tool-free chain tensioning and bar tightening knob for proper bar clamping force
Compact and lightweight design (Just 9 lbs. with battery) for maximum user control
Up to 90 cuts per charge on 4×4 pressure treated wood (using a 20V MAX* 5Ah battery)
Part of the 20V max system of tools
Chain Speed is 25.2 feet/second
CRAFTSMAN V20 Cordless Lopper
With nearly 250 reviews rates very highly among those that have bought it. As a jawsaw/lopper it has a 20V motor. The Lopper chainsaw is fueled by a high performance 2.0AH lithium ion battery, providing enough runtime to complete hundreds of cuts per charge. The battery is also compatible across the range of 20V MAX* CRAFTSMAN tools. The Lopper features a scissor type action for fast cutting in one easy motion with patented clamping jaws allowing you to easily and safely grab and cut limbs. It features a 4″ cutting diameter which is great for storm cleanup and auto oiling for minimal maintenance.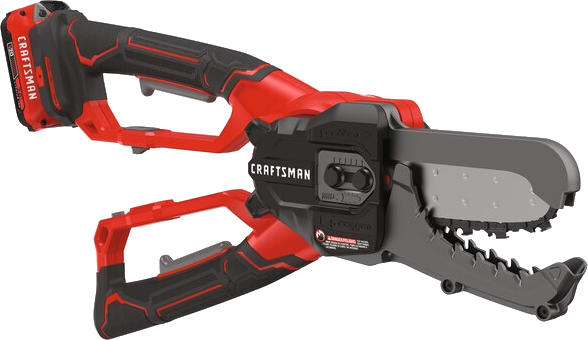 Easy grab: Patented clamping jaws allow for easy grabbing and cutting tree limbs
One easy motion: Scissor type action for fast cutting in one easy motion
Large cuts: Cuts up to 4-in. diameter being ideal for storm clean up
Compact design – For pruning trees & shrubs
Includes battery and charger
Replacement parts available for the chain CMZCSC6 and bar CMZCSB6
3 Year Limited Warranty, please refer to "Warranty & Support" for full details
Conclusion
When it comes to buying a battery-powered wood cutter there is a considerable range of tools available, to to suit pretty much all circumstances. It is unquestionably useful to have a battery-powered wood cutter in your armory of garden and wood tools.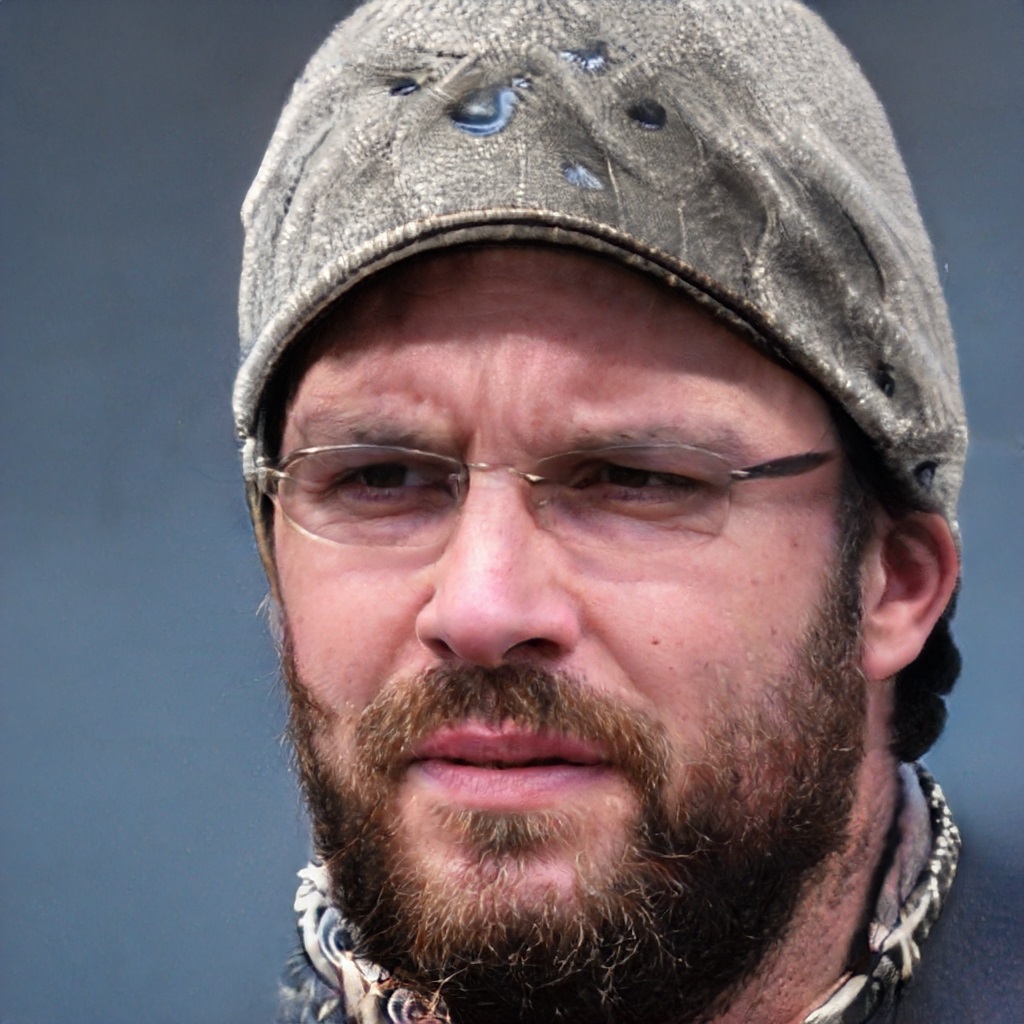 I've been involved in the welding industry for over twenty years. I trained in various engineering shops working on various projects from small fabrication and repairs through to industrial projects.I specialize in welding aluminum and food grade stainless steel and an now run an engineering shop fabricating equipment for the food industry.