Battery Powered Wood Router – 5 Great Options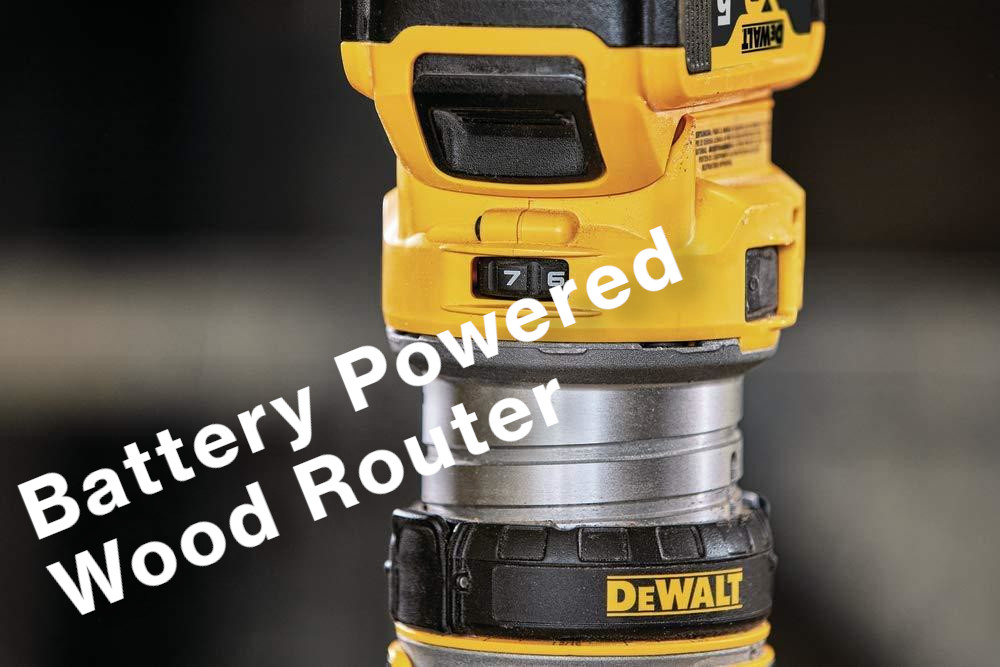 Battery powered wood router. There is no doubt that the conventional wood router is one of the most useful and versatile tools in a woodworkers armory. For those who new to wood routers it is essentially an electric motor with a cutter at that spins at a incredibly high speed. This allows the tool to slice through wood like butter.
Fine a saw can do that. True but where it comes into its own is that the cutters come in various shapes and sizes allowing you to carve shapes into the surface of the wood or board you are working with. What really sets them apart though ids that they are designed to follow pattern jigs which means that you can carve the same intricate pattern over and over again when coupled with a CNC machine you could almost go into production! So a router is an incredible tool. as it can cut shape and pattern a work piece.
So what is the advantage of a battery powered wood router?
A battery powered wood router gives you freedom to employ a router on jobs that previously might have found it difficult to maneuver because of a trailing power cable. In itself, a large router actually requires a lot of power. However, with the recent advancements in battery technology over the last few years, has meant that the power available to a battery powered wood router is substantial enough to power the biggest machines for extended periods of time. Quite simply they are easier to carry, easier to maneuver, don't require an electrical connection (especially useful if you are working on a construction site)
Factors to take into consideration before you buy
If you have not already done this it is important to take a minute to think about what you are actually going to use the tool for. Is it a case of general purpose use or do you have a specific task in mind. Many professional woodworkers will have several routers in their toolkit but if you are just a woodworking enthusiast then you will probably be better off with general purpose model.
What is the intended use for a battery powered wood router?
If you are a tradesman then you more than likely know what you are looking for. If on the other hand you have a specific project in mind then you want to get a model that is best for that job. The smaller routers are probably best for fine intricate work, particularly if you are doing it by hand. If you are going to be cutting a lot of materials, for example such as work surfaces, then you are going to need a much more robust model.
What is its compatibility with other battery powered tools?
Something else that you may need to take into account is any other battery powered wood tools you have. If you have several tools such as circular saws, cordless dill, by keep to the same manufacturer you might be able to interchange the batteries (although you should check with the manufacturer) . This could be useful if you are away from your workshop or on site and are a heavy user. It is certainly something to consider as it could save the need to purchase additional batteries.
What are the options in choosing a battery powered wood router?
In today's market when it comes to buying a battery powered wood router you are blessed with a large variety of options. Whatever your requirements of a batter powered wood router, be it big or small there is almost certainly a model that will suit your needs. Below we will take a look at some of the best tools on the market to day. We will cover various price points so that you can access which is the most suitable battery powered wood router for both your budget and needs.
Ridgid R86044B 18V Lithium Ion Cordless Brushless 1/4 Inch Compact Router w/ Depth Adjusting
A solid model with a 4.4 review rating tell us that this battery powered wood router has been generally well received router. This 1/4 inch router packs a powerful punch when equipped with the 5ah battery. Comes with softstart technology for ease of use.
Extended runtime- cut up to 400 ft. of laminate per charge with 5ah battery (not included) It uses brushless motor technology delivers more run-time and longer motor life. It has a variable speed option allows operator to adjust speed from between 17,000 RPM to 25,000 RPM.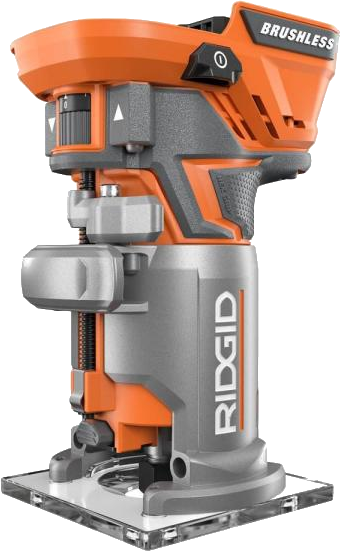 Cut up to 400 ft. of laminate on a 5.0Ah battery (not included)
Variable Speed Dial for easily matching speed to the application
This tool features extended runtime. RIDGID Brushless Motors offer more runtime and longer motor life.
Micro-Adjust Dial for easily adjusting the router depth; SOFTStart™ Technology helps prevent gouges on work surface
Covered for Life with Registration
Includes: – (1) R86044 Brushless 18V Router, (1) Edge Guide, (1) 1/4 in. Bit, (1) Round Base, (1) Square Base, (1) Wrench, (1) Contractor's Bag, and Operator's Manual
Soft Start Motor: This motor gradually rises to full RPM so as to prevent damaging your woodworking product
Ryobi P601 One+ 18V Lithium Ion Cordless Fixed Base Trim Router
With over 300 reviews and a 4.7 rating this is an established and well regarded model in the field. This 1/4 inch router packs a powerful punch when equipped with the 5ah battery. Comes with softstart technology for ease of use.
At a huge 29,000 RPM, this cordless router from Ryobi should be able to help you with most specialty woodworking projects Whether around the house, in the workshop or on site it will cope. The comfort-grip rubber coating helping the handling particularly if there are slippery of conditions, making precise cuts or bit changes with ease.
In addition it is incredibly easy tool to adjust the cutting depth with. An conveniently located knob allows you to make the adjustment, making the task simple. The Ryobi has clear ID markings, so you can tell at a glance your exact current cutting depth.
It's compact, too, so handling will be easy, especially on smaller projects. Plug in one of Ryobi's high quality 18v batteries, and you you can get going on practically any job.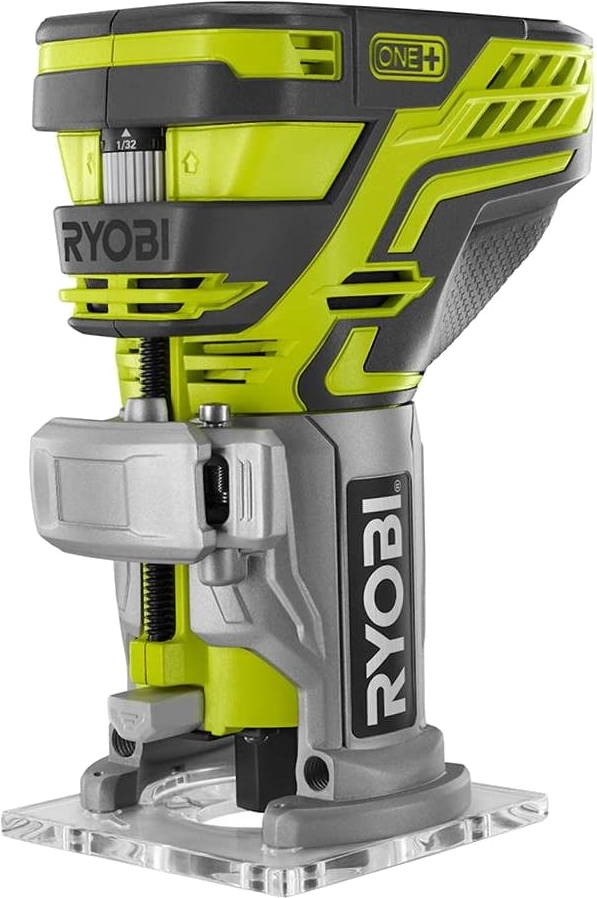 Cuts over 600 linear ft. per charge
Up to 29,000 RPM
Features micro-adjustment for precise depth control
Die-cast base for maximum durability
Quick-release lever for easy depth adjustment and base removal
LED illuminates work surfaces for increased cutting visibility
GRIPZONE over mold with microtexture for optimum grip and user comfort
Collet accepts all standard 1/4 in shank router bits
ONE+ Compatible: To make life easy a variety of Ryobi 18V lithium ion batteries are compatible with this tool. Compatible battery models include the P100, P102, P103, P104, P105, P107, and P108
Bosch 12V Max EC Brushless Palm Edge Router (Bare Tool) GKF12V-25N
This Bosch battery powered wood router has north of 150 reviews scoring an average user rating of 4.6 making it a well regarded piece of kit! It has a unique shape that is designed to help with handling.
Brushless, the Palm Edge Router is cordless and combined with its special offset design, making this router the choice for comfortable, compact edge routing and trimming. The router is both light weight and balanced.
It is a professional cordless router is designed in the main to make edge routing of panels and trimming easy. It has a unique ergonomic shape that helps with handling during operation as most of the tools gripping zones positioned to be over the workpiece. This gives much greater control and stability when edge routing. In addition it weighs just 2.2 Lbs.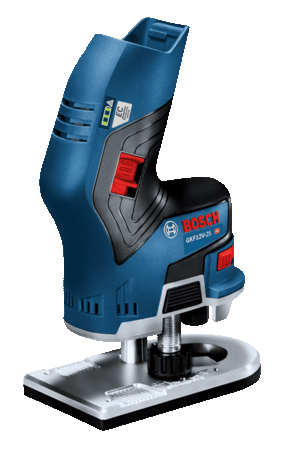 Ergonomic 12 V Max palm edge router construction – delivers light, well-balanced design, cordless convenience and EC Brushless power and runtime for hassle-free edge routing
Compact, offset design – weighing only 2.2 Lbs. (not including battery), this cordless router allows easy handling because most of the tool and its gripping areas are positioned over the work piece for maximum stability when edge-forming and trimming
EC Brushless motor – provides efficient power, with a max 13,000 RPM and up to 23 Ft. of round-over capacity per battery Amp hour
Versatile depth-adjustment system – ensures precise fine depth adjustment (0.04 In. per dial revolution) and easy macro depth adjustment
Depth adjustment lock – helps prevent tampering with depth setting
Easy-change spindle lock – provides easy one-wrench bit changes
Finger barriers – helps prevent contact with the bit area
Restart protection – helps prevent accidental startup when switching batteries
Constant speed circuitry – monitors and maintains speed under load for consistent performance
Makita XTR01T7 18V LXT Lithium-Ion Brushless Cordless Compact Router Kit
The Makita battery powered wood router is where corded power meets cordless convince and with close to 600 reviews hitting a 4.9 average user rating it is clear that its users agree! .
The router has an efficient Makita BL Brushless motor which gives it up to 50% longer running time combined with increased power, speed, and a longer tool life. If you go for the kit option it includes two state of the art 18V LXT 5.0Ah batteries. These can be charged to 100% in just 45 minutes! By far the fastest charge-time in the category – This means much less downtime and increased productivity.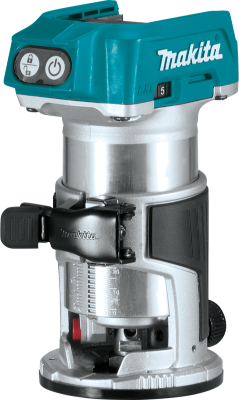 Makita-built brushless motor delivers faster and more accurate cuts in a variety of materials
LXT® technology delivers 380 feet of cutting performance in red oak using a 1/4″ (6mm) straight bit at a 5/32″ (4mm) depth with a 5.0Ah battery
The electronically-controlled BL™ Brushless Motor efficiently uses energy to match torque and RPM to the changing demands of the application
Variable speed control dial (10,000 – 30,000 RPM) to match the speed to the application
Electronic speed control maintains constant speed under load
On/Off button with separate lock button helps prevent accidental start-up of the tool for user and workpiece protection
Soft start feature for smoother start-ups and better accuracy
Smooth rack-and-pinion fine depth adjustment system for more precise settings
Slim and ergonomically designed body with rubberized grip for increased comfort
Aluminum housing and base for increased durability and accuracy
DEWALT 20V Max XR Cordless Router, Brushless, Tool Only (DCW600B)
The final battery powered wood router on our list is the Dewalt 20v Max XR. It had been reviewed nearly 2000 times and holds a 4.9 star rating meaning that without doubt it is a high quality tool as its users clearly argue!
The 20V max XR Cordless compact router provides similar power to that of a corded compact router yet giving the convenience and flexibility of cordless tools. The plastic fixed base and dual LED lights help to illuminate the work surface being operated on giving it superior bit visibility. This cordless router is has a variable speed control allowing for optimal bit speed depending upon application. The quick release clamp allows for fast and easy bit and base changing..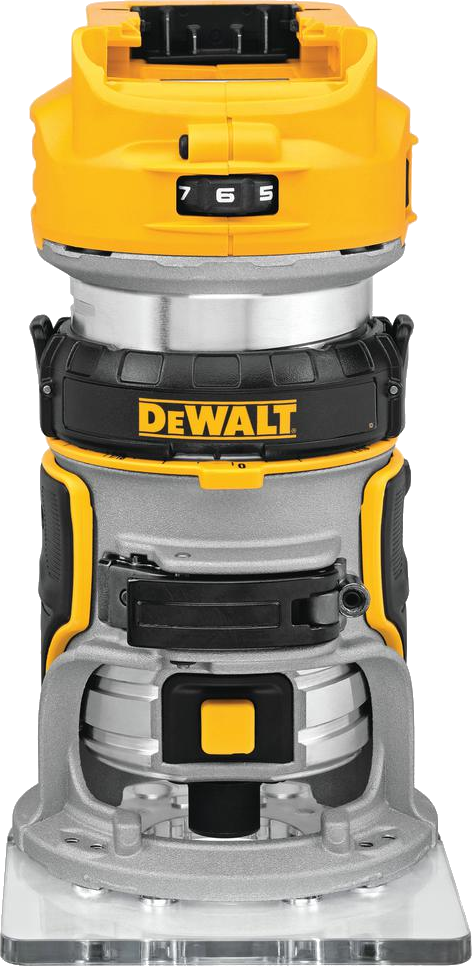 Dual LEDs help illuminate the work surface
Variable-speed dial allows the user to match speed of of the router to the application
Depth adjustment ring allows for fast and easy height adjustments
Soft start motor with full-time electronic feedback allows the motor to maintain speed during cuts
Electronic brake slows the motor down faster after the unit is shut off
The plastic fixed base and dual LEDs help illuminate the work surface and provide superior bit visibility.
The release clamp allows for quick and easy bit and base change.
SPEED 16,000 – 25,500 RPM
TOOL WEIGHT 3.4 LBS
Conclusion
We have looked at five very capable options for a battery powered wood router. Which though is the best? It is difficult to be definitive as much will depend on what you want to usthe the battery powered wood router for. But overall if we had to pick one we would probably pick the Makita XTRo1T7 as our choice for the best battery powered wood router. The reason is more that when you buy the kit option to get two batteries and when all other things being equal that and the incredibly fast charging batteries make it our preferred battery powered wood router.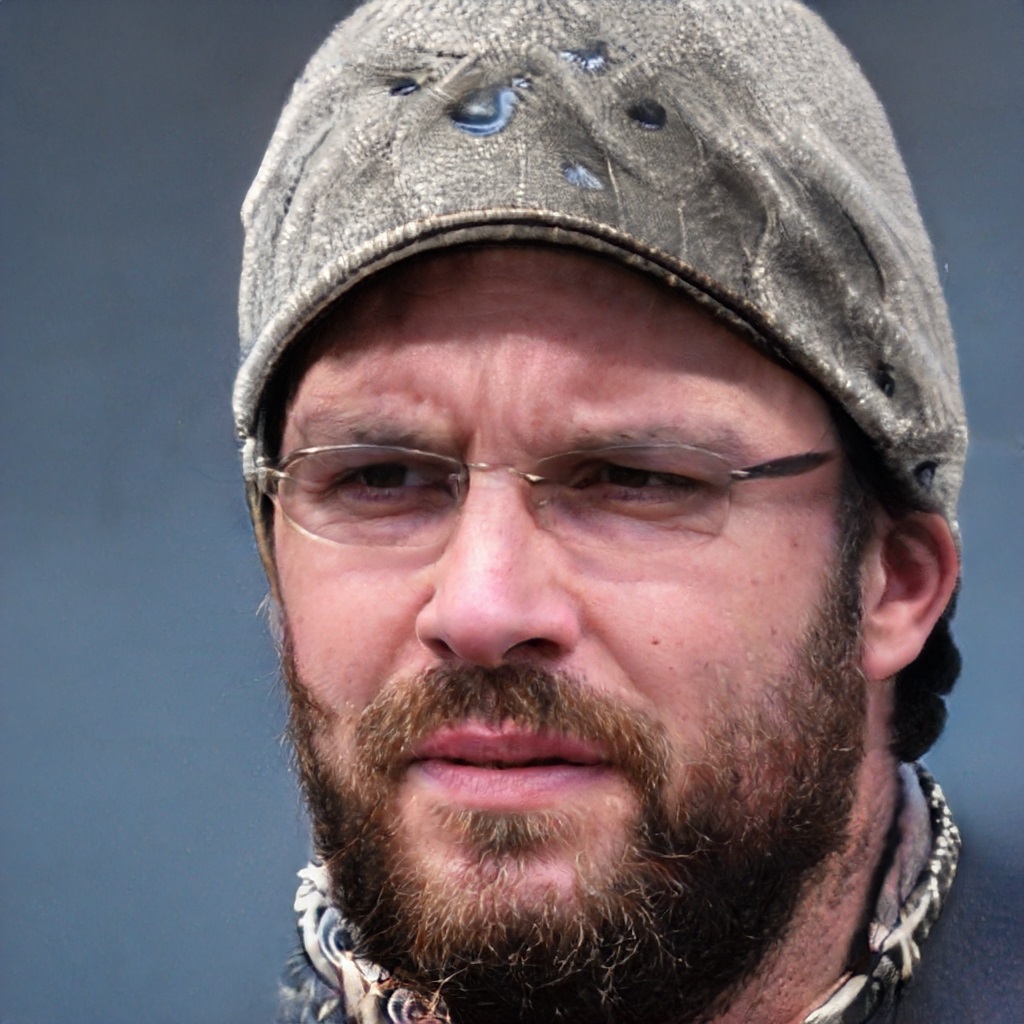 I've been involved in the welding industry for over twenty years. I trained in various engineering shops working on various projects from small fabrication and repairs through to industrial projects.I specialize in welding aluminum and food grade stainless steel and an now run an engineering shop fabricating equipment for the food industry.